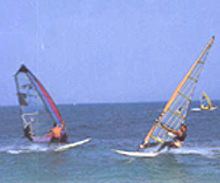 Vinišće is a picturesque place in a large, wind-protected bay. It has about 800 inhabitants and beside church, post office, pharmacy and grocer's shops you can find Dalmatian inns - on Croatian: Konoba. Vinišće is placed in Middle Dalmatia near ancient town Trogir.
There you can find a perfect harmony of sun, sea, stone and man, it is a place where you can rest your body and feed your soul. In Vinisce you can find ancient and modern, old customs, tradition and modern way of life are mixed together in a special kind of way. Here you can experience something more then a usual holyday…It is a place where the sea is cleanest and islands the most romantic…people most friendly. Except Trogir which is 19km away from Vinisce, 48 km away is Split. Split is also old town, approximately 1700 years old. It was built by Roman emperor Diokletian, and is still good preserved.
Except that Split is also administrative centre with big supplying shops. Also in Split and Trogir you can find casinos, night bars, and disco clubs (F1 at entrance in Trogir and Aurora – Primošten in a direction of Šibenik). If you are hungry there are lots of restaurants with good fish and great vine.